A. P. J. Abdul Kalam is an inspirational name. APJ Abdul Kalam is a wonderful image of living history, legend, idealist, extraordinary personality. He is one of the biggest examples of how a person can rise from zero to a great personality.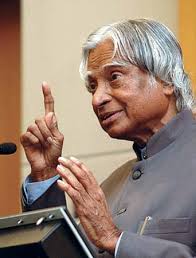 Abul Pakir Zainul-Abedin Abdul Kalam is the full name of the nuclear scientist named India's Missile Man. He was born on 8 October 8th in a Tamil Muslim family in Rameshwaram under the Madras Presidency of British India. His father Zainul-Abedin was a boat owner who was a very secular man and his mother Ashiyama was a housewife.
He was the son of a very poor family. They were seven siblings. From a very young age, he had to work in various professions to make a living.
At school, he was a student of ordinary quality. But he was an intelligent and hard-working student. He had a passion for education. An hour after hour he used to study and draw. After completing his education at Ramanathapuram Schwartz Matriculation School, Kalam enrolled at St. Joseph's College in Tiruchirapalli. He graduated in Physics from that college in the year 1954.
In 1995 He returned to Madras (now Chennai). He received aviation technology education from the Madras Institute of Technology, where he lost the opportunity to become a fighter pilot. The Indian Air Force required eight personnel in the test. He was ninth in the test.
His father's influence was more noticeable in his life, Kalam noticed in his childhood, his father used to pray for the sick in the mosque crowd, although his father himself was a secular man, and his father's influence was strong. He also noticed that his mother cooked rice for everyone, but also made some extra bread for him, which always intrigued him.
A. P. J. Abdul Kalam was an Indian scientist in the profession who served as the eleventh president of India from 2002 to 2007 AD. After studying physics and aviation engineering, he spent the next forty years serving as a scientist and science administrator at the Defense Research and Development Organization and the Indian Space Research Institute.
He played an important role in India's interdisciplinary programs and military missile projects. His research on ballistic missiles has led him to be called India's missile man. He also played an important role in the Pokhran-II missile test organized by India in 1998 AD.
Kalam was elected the 11th President of India in support of the Bharatiya Janata Party and the National Congress of India in 2002 AD and served for the next five years. During his career, he worked for a long time as a scientist in the Defense Research and Development Organization of India (DRDO) and as a scientific administrator in the Indian Space Research Organization (ISRO).
Awards:
In recognition of his work, the Government of India awarded the title of APJ Abdul Kalam to Padma Bhushan in 1981, Padma Bibhushan in 1990 and Bharat Ratna in 1997. In addition to these three national titles, he was honored with many other domestic and international medals for his outstanding contribution to the national interest and human welfare.
Books of A. P. J. Abdul Kalam:
Not only was he busy working, he also wrote many important books His famous autobiographical name "Wings of Fire" is also included in other books – "India 2020", "A Vision for the New Millennium", "Turning Points; Mentions include "A Journey Through Challenges", "My Journey: Transforming Dream in Two Actions", "Inspiring Thoughts".
Place of death and time:
He was diagnosed with cardiovascular disease at around 6:30 pm on July 27 when he was speaking on habitable earth at the Indian Institute of Management in Shillong, Meghalaya.
He was taken to Bethany Hospital, where he died at around ৭:৪5 pm in Indian proof. The age at the time of his death was ৮৪ years. Following his departure, the Indian government declared seven days of national mourning.
A. P. J. Abdul Kalam will live in the hearts of billions of people for his working life.
The famous quotes of A. P. J. Abdul Kalam