You can prepare IELTS at home without coaching when you are confident that you have a complete understanding of the English language whether it's speaking, writing, listening, or reading.
First, it is necessary to understand the assessment criteria that will help you prepare for your IELTS exam. Understand how to get a better score in each exam section. This article will give you all the guidelines for preparing for IELTS.
Test format: IELTS Academic or IELTS General Training?
IELTS is available in two different versions: Academic and General Training. Each organization that accepts IELTS will usually specify which version of IELTS will be required for your application. In some cases either IELTS Academic or IELTS General training can be taken. If you have any doubts about which one to take, you should contact the company/organization you are applying to check their requirements.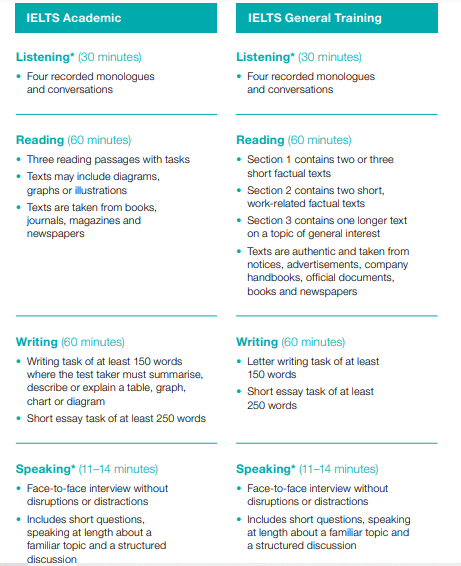 How is IELTS scored?
IELTS nine-band scale: Your performance on test day in each language skill — Listening, Reading, Writing, and Speaking — is reported as a band score on a scale of 1 (the lowest) to 9 (the highest). All parts of the test and the overall band score are reported in whole or half bands (e.g. 6.0, 6.5, 7.0, 7.5, etc.).
The IELTS scale:
| | | |
| --- | --- | --- |
| Band score | Skill level | Description |
| 9 | Expert user | The language contains fully functional commands: appropriate, accurate, and fluent with full understanding. |
| 8 | Very good user | The language only has complete operational commands with occasional errors and inaccuracies. Misunderstandings can occur in unfamiliar situations. Handles complex, detailed reasoning well. |
| 7 | Good user | Language has operational commands, although in some situations there are occasional mistakes, including inaccuracies and misunderstandings. Generally handles complex language well and understands detailed logic. |
| 6 | Competent user | Despite some inaccuracies, inaccuracies, and misunderstandings, the language has generally effective commands. Can use and understand fairly complex language, especially in familiar situations. |
| 5 | Modest user | Language has a partial command, dealing with the overall meaning in most situations, although there is a lot of room for error. Should be able to manage basic communication in their own case. |
| 4 | Limited user | Basic skills are limited to familiar situations. There are frequent problems with comprehension and expression. Not able to use complex language. |
| 3 | Extremely limited user | Conveys and understands only common sense in very familiar situations. Frequent breakdowns occur in communication. |
| 2 | Intermittent user | It is very difficult for the examinee to understand spoken and written English. |
| 1 | Non-user | The examinee does not have the ability to use the language except for some isolated words. |
| 0 | Did not attempt the test | Did not attempt the test. |
The IELTS exam format consists of different sections which are:
Listening

Reading

Writing

Speaking
If you are confident that you are good at all these then you do not need any institute or coaching to prepare for IELTS. It all depends on how much more focused you were during the test than your actual knowledge of English. IELTS is very tricky and, you need to know the techniques to get a good score.
How to Prepare for IELTS at Home Without Coaching
Listening: How to Prepare for IELTS at Home
Candidates have to answer 40 questions and listen to 4 different recordings. These recordings include daily conversations, academic lectures, group conversations as well as monologues. The IELTS listening practice test lasts about 30 minutes. However, the main challenge in this category is that candidates can only listen to the audio once.

Free IELTS listening practice material online:
IELTS Listening Test Tips and Advice:
Focus on keywords.

Don't lose attention.

Follow the instructions carefully.

Don't write answers too quickly.

Don't leave any blank answers. (You don't lose marks for the wrong answer)

Multiple choice answers will ask for a letter (a, b, c, d)

Check for silly mistakes.

Transfer answers accurately

Polish your topic vocabulary.

Practice as much as you can.
Reading: How to Prepare for IELTS at Home
The content of the reading tests for the IELTS Academic and IELTS General Training Exam is different. However, these two forms of the IELTS reading test contain 40 questions in 3 articles. The candidate will be asked to read three different passages and answer the relevant questions.
IELTS Academic Reading description: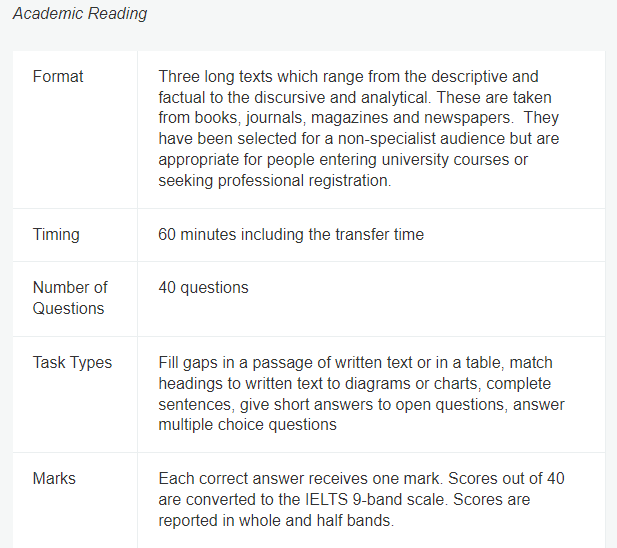 IELTS General Training Reading description;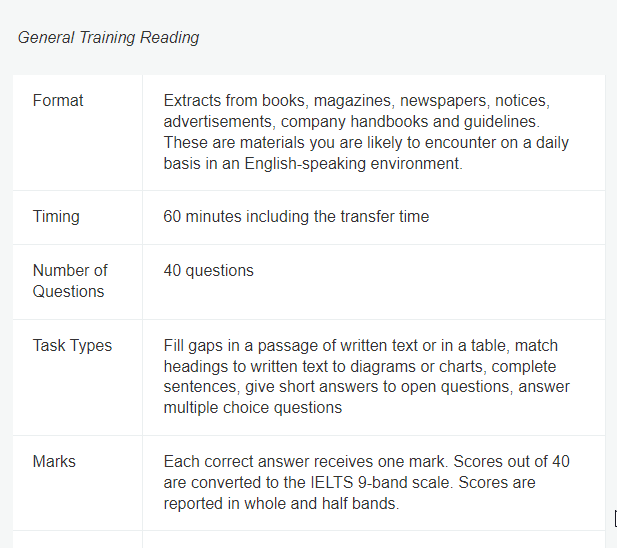 Free IELTS Reading practice material online:
IELTS Reading Tips & Strategies:
Develop your vocabulary.

Read the questions first.

Read the questions again and understand them.

Learn to Scan, skim and summarize.

Organize your reading time to improve focus.

Practice reading different types of texts in English to develop the habit of reading fast.

Make sure your spelling is always correct, especially when you're copying from a passage.

Answer all the questions even if you are not sure about the answer.

Familiarize yourself with various Question Types and practices.

Practice doing lots of reading tests. Such as Articles, newspapers, novels, and journals are great places to start.
Writing: How to Prepare for IELTS at Home
General and academic training writing exams are usually graded at the same level. The IELTS Academic Writing Test includes topics suitable for undergraduate and postgraduate students. On the other hand, the IELTS General Training module contains general subject quotes from books, magazines, notices, company handbooks, etc.
Writing more than 300 words in Task 2 and more than 200 words in Task 1 is a bad idea. First, it is difficult for the examiner to read long essays and he will examine your writing with less attention. Second, you may make more mistakes and have less time to examine what you have written.
Do not repeat different words in your writing, and avoid being unnecessary. Also, make sure that each paragraph of Writing Task 2 has a central concept. It is essential for good writing that each paragraph of your article is separated and has its main thoughts. This simple thing makes your article neat and consistent.
IELTS Writing test format: Academic Training

IELTS Writing test format: General Training

Free IELTS Writing Practice Material Online:
Follow this YouTube Channel: E2 IELTS
Follow this YouTube Channel: IELTS-up Online lessons
IELTS Writing Tips and Tricks:
First, understand the question.

Make a plan for your answer.

Write an introduction properly.

Use Proper Vocabulary and keep it formal.

Form grammatically correct sentences.

Put a count on words.

Write the paragraphs of the main part in detail.

Follow the standard Essay Writing structure.

Time management is crucial, don't forget it.

Write a conclusion of the topic.
Speaking: How to Prepare for IELTS at Home
The Speaking part is a short, face-to-face interview with an examiner that lasts 11 to 14 minutes. The face-to-face test consists of three parts. If you want to score well in these three parts of the speaking test, you should prepare well.
Part One: Introduction and questions on familiar topics. (Duration: 4–5 minutes)
Part Two: Individual long turn (Duration: 3–4 minutes)
And, Part Three: Two-way discussion (Duration: 4–5 minutes)
The IELTS Listening and Speaking tests are similar to the IELTS Academic or IELTS General Training Test.
In IELTS Speaking Part 2, you will be given a cue card to describe. Like the picture below: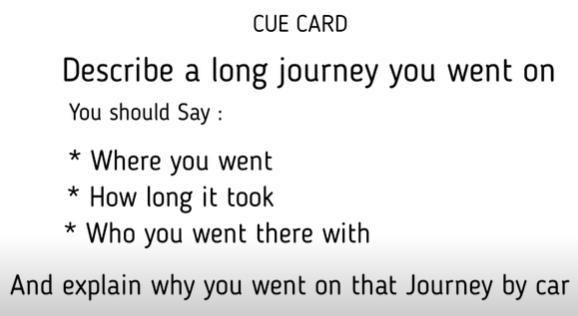 Free IELTS Speaking Practice Material Online:
Follow these YouTube channels:
IELTS Speaking Tips and Advice:
Practice speaking English every day

Memorize a wide range of vocabulary

Know the test module and scoring system

Know your strengths and weaknesses

Improve your English pronunciation

Improve your fluency day by day

Do not answer any questions with 'yes' or 'no'

Do not repeat the examiner's questions as part of your answer.

Use a wide range of grammar and vocabulary when speaking

Do not slow down or speed up your speech. Be normal as you talk to people in regular life.
Read More:
What do you like to do in your spare time?